There are many concepts of what constitutes an "Antique".  To Millennials, an antique is anything from the 1970s or 1980s – long before they were born.  For others, it feels antique if it was made before 1950. According to US Customs laws, an antique is any work of art, piece of furniture, decorative object, or the like created or produced 100 years before the date of purchase.
Using US Customs standards, anything built before 1918, then, is "officially" an antique.  Whatever your "cutoff" is, most of us living today would agree that objects produced during the Victorian (1837 – 1901) and Edwardian (1901 – 1910) eras qualify as a bona fide antiques.
Given that, I want to introduce you to some of my favorite Victorian and Edwardian furniture,  now available in the store.
This table with a complete set of balloon back chairs is a magnificent example.  The dual pedestal legs are ornately carved and the chairs with a carved rose detail have a lovely patina, earned of their age.  The upholstery was replaced in, my best guess, the 1970s.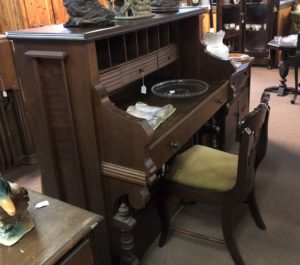 When we purchased this piece, we referred to it as "the piano desk". It was only later that we learned our instincts were almost correct.  This is a re-purposed organ!   While we are not big fans of "re-purposing", especially if it involves paint of any kind, this piece is beautiful and functional. It is a desk any office would be able to display proudly. Our personal preferences aside, re-purposing does seem to be all the rage these days. In this case, we think the results were pretty stunning.
Speaking of musical instruments, do you remember pump organs?  These were sometimes called "reed
organs" because the bellows pumped air across the reeds which produced the sound. Also referred to as harmoniums or melodeons, these beauties were wildly popular from the 1850s until the 1920s, when the piano began to replace them in society. You will see these beautiful pieces of furniture re-purposed into desks, bars, even vanities.  I happen to love this one just the way it stands.  It could use a little love from a collector who wants to make it functional again. Half of the keys work to produce music.  The furniture itself is still a sight to behold with intricate carving, a lovely finish, and platforms for pedestal candles on each side of the keyboard.
This is just a small sampling of what is available in the store today! In future posts I will be showing you antiques and collectibles from other eras, so stay tuned.
Better yet, stop by the store at 8251 S. Main Street, Helen, GA.
Call: (706) 696-7075
mh106antiques@gmail.com